Group 'Em
Group 'Em
A Variation on the Card Game Set
Group 'Em is a solitaire puzzle card game where you must find three cards which make up a group.
What is a Group?
Each card has 4 properties:
A Color: Red, Blue, or Green
A Value: One, Two, or Three
A Shade: Light, Dark, or Empty
A Shape: Circle, Triangle, or Square
Three cards are said to be a group if the following conditions are met:
All colors match or differ
All values match or differ
All shades match or differ
All shapes match or differ
In short, each property of the three cards must match or differ from each other.
Examples: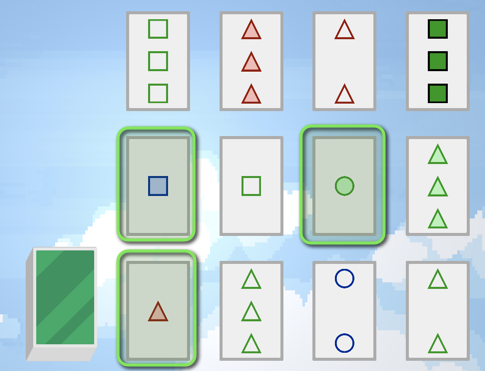 The above example meets the following criteria:
All colors differ
All values match
All shades match
All shapes differ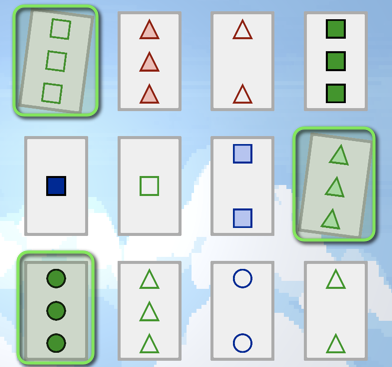 The above example meets the following criteria:
All colors match
All values match
All shades differ
All shapes differ
Hints
It is rare that among 12 cards you will not be able to find a group. However, if you are stuck, there is a Hint feature built into the game. By selecting 2 cards on the board, it will tell you which card is required to complete the group. This can be very useful when you're first learning to game.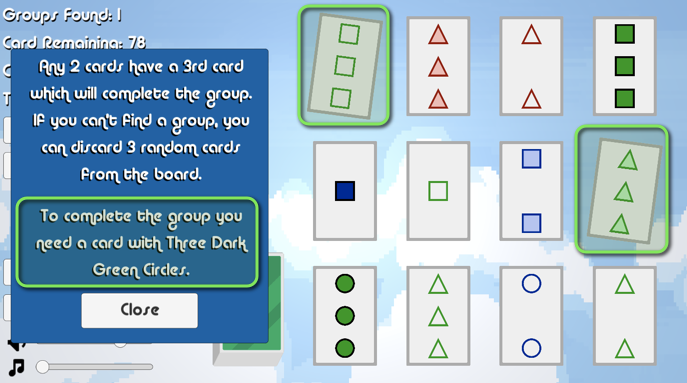 Discarding 3 Cards
If you find yourself completely stuck, or just tired of the current cards, you can discard 3 cards at random from the board and replace them with cards from the deck.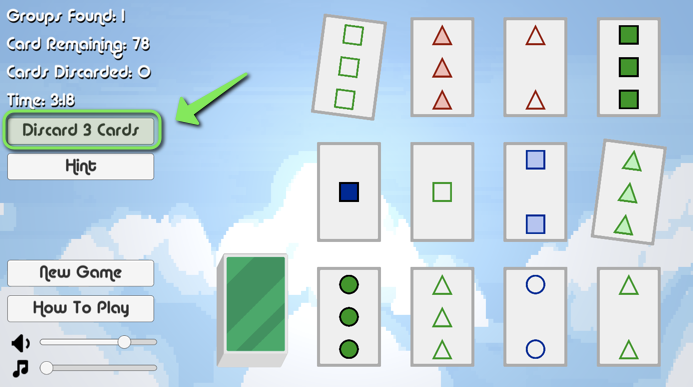 Challenge to Get 27 Groups
Although there is no way to lose the game, it is possible to complete a full 27 groups. This requires a great amount of planning and luck. Can you finish the deck without discarding any cards? Good luck!
Trijam #150
This is my submission to Trijam #150. The theme was "Grouping". The goal is to create a game in 3 hours. My final development time was 2:55. I hope you enjoy this game.
Development
The source code is also available here: github.com/jcollard/trijam-150
Attributions
Comments
Log in with itch.io to leave a comment.
Once I understood the rules a bit better the game was definitely satisfying! Great job!
Really deep concept but the complexity can really hinder enjoying the game.
Having a constant view on how many are possible would really help :
Am i in a situation where i have LOT of possible grouping or should i discard isn't something easy to see
Thanks for playing! I agree. I had a lot of trouble trying to figure out how to explain the rules without just directing a person to a YouTube video.
Another person found a bug that I fixed. While I was fixing that, I tried to improve the hint system to be progressive rather than a big hint button. With the Hint screen on, it will always display how many solutions there are without telling you the first card to select.
I love the idea, but there's a couple things which are slightly broken.
- Might just be my luck but too often there are no groups in the deck. This might also just be my skills in the game so feel free to disregard this point.
- Sometimes the cards don't show as selected and this required refreshing the page. Bit strange, and I can't find the cause.

When it works, it's a great puzzle game and I love it!
Thanks for playing! I really appreciate the feedback.
Re: No Groups
The deck is shuffled and drawn from which means that it is possible to end up with no solution situations. However, if you're careful with which groups you select and keep in mind which cards you've seen so far you can often get all 27 groups. I was able to "beat" it a handful of times. If I had more time, I would have liked to implement a nice algorithm to make the deck less random to provide an "easy", "medium", and "hard" mode.
Re: Bug
Unfortunately, I never received the issue you're talking about with the cards not selecting. If you could reproduce it and take a video, that would super helpful for me to debug it.
Thanks for letting me know about this bug. I was finally able to reproduce it. If you have cards selected while you click "New Game" it never clears out the selected cards from the previous game.
That's one of my favorite card games. I think using a pattern is clearer than using light and dark colors. The hints are very clever, nicely done.

Thanks for playing! I'm glad you enjoyed it. I've been wanting to make a variation of this game for years. This was a great excuse to do it. I ended up going with "light", "dark", and "empty" so I only had to make one of each shape. The same graphic is used on all of the cards, which are generated during game play.